First of all, I had some camera problems, so some shots were just not available.
We had the breakfast buffet at Trump's Taj Mahal, and it was good, but a little disappointing. It was all my fault. We went in at 10 or so, and I assumed it was brunch. Nope, breakfast only. And, the average age was somewhere between 90 and 119. I ranted about old people at a buffet at my Crotchety Old Man blog, so you may want to read that later.
But I digress. I decided to take pictures of my breakfast: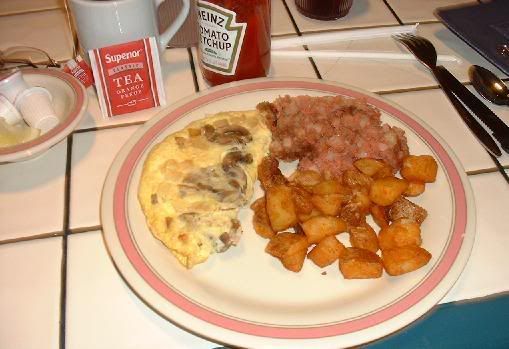 Notice the nice healthy muchroom and onion omelet. Pay no attention to the hash browns. And the corned beef hash was immediately passed over to the Mrs. after the photo op. It wound up my plate because, again, my fault, I mentioned to the Mrs. that they had corned beef hash. I'm sure if I had noticed a fish eye and pig intestine stew, that would have been served up, too. She means well, though.
But the highlight of the meal, and not available due to the stupid camera (I do have 11 other pictures of the omelet, though) wasn the toast. Yes! The designers of the breakfast buffet had the good sense and foresight to include, seperately from themish mash of all the other breakfast foods, a "Toast Station." It was more like a Toast Island, an oasis of toasted perfection in a sea of mediocrity. I selected a thick slice of rye. It was inserted onto the conveyor belt, and then emerged, bursting with well toasted goodness on the other side of the high speed toaster. It was then slathered with copious amounts of sweet creamery butter.
Ahhh.
Tea and toast, the centerpiece of a perfect meal.
I'll be back later. Lots of meals to catch up on. And more pictures of my vacation meals.