Mrs. had some fish at the Showboat. It was ok, but the creamed spinach tasted like nothing I ever had before. It might have had cinnamon in it. I should have asked for the recipe, but I was afraid the chef may have thought we liked it. It was kind of nasty.
The nachos were a disappointment, too. They looked good, but were strange, also.
Totally processed tasting, like it was covered in melted Cheez Whiz. At least dinner was cheap. And the roasted pepper on mine looked pretty, and tasted ok.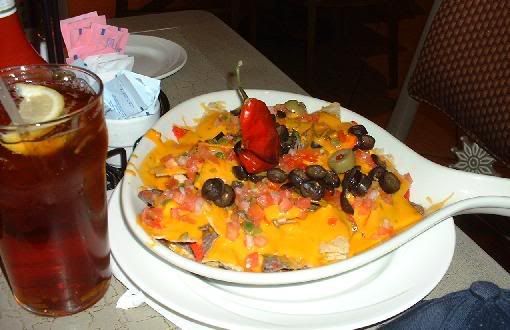 But I did have some fun, acting as if I were a photojournalist.
I have no life.
But one thing bothered me more than the bad food. The big basket of not to be eaten rolls. We didn't eat them, and most tables left at least a couple of them.
With the cost of food, and the many hungry people in the country, it's a shame. Within a few hundred feet of where we were, I know there are homeless people living. Yet these things were tossed. Wouldn't it make more sense to ask if the diners wanted the rolls, and to donate the rolls normally doled out to those unfortunate folks living under the boardwalk?
Makes sense to me.