Friday night for us, like for so many other old farts, is take-out/delivery night. Last night, the Mrs. went to Baja Fresh on her way home from work.
Baja Fresh is very good Mexican fast food. Usually I order fish tacos, but last night, I wanted to go completely vegetarian. I do try to eat a vegan diet, but usually it is more vegetarian as I eat some dairy, and once or twice a week, I eat some meat or fish.
Before I go too far into last night's wonderful meal, let me tell you about fish tacos. At Baja fresh, they are pretty traditional, served with thinly sliced cabbage and a nice piece of white fish in a soft taco with some salsa and a tangy ranch-like dressing. They are very light, and full of flavor. They come with a lime slice, which I immediately squeeze and douse my taco with the juice.
But last night I went with the vegetarian burrito with pinto beans. It was huge, and full of peppers, onions, salsa, and mushrooms, with just enough pinto beans to add some protein, but not so much as to resemble a bean sandwich. I would say they were an accent to the burrito.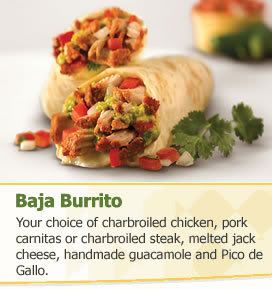 They do everything fresh, including the salsa
From the Baja Fresh website
No Microwaves,
No Can Openers,
No Freezers,
No Lard,
No M.S.G.®
No Compromises
I
Baja Fresh